Power Associates, Inc. provides our customers with end-to-end, turnkey, reliable power support systems. We are able to source products from industry leading manufacturers and assist you in delivering clean reliable power to your facilities. We are experienced with new construction scenarios, upgrades to existing systems, and retro-fitting systems into established structures.
Power Associates Inc. is an Eaton Power Specialist. This designation means that we have the training, experience and history to deliver Eaton Products throughout the entire Power Chain. We are your resource for the Eaton UPS products, transfer switches, surge suppressors, power distribution units, and standby power systems.
To review our offerings from Eaton, please call 281-459-4653 ext. 111 to discuss your specific requirements.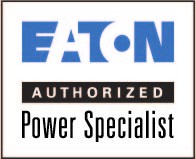 Power Associates, Inc. also offers APC UPS equipment in the Smart-UPS, Symmetra and InfraStruXure lines. We also have experience in locating the International and Marine SKUs for the Smart-UPS product (availability varies by model). Call 281-459-4653 ext. 112 for assistance with APC solutions.
In addition to the Eaton and APC brands, we are able to provide equipment such as specialized cabling and conduit systems, metering and monitoring equipment and standby generators. We can work directly with electrical contractors and facility personnel . Call us at 281-459-4653 ext. 111 or e-mail Power Info to request a quotation.
We sell to business end users and electrical contractors only. We do not stock consumer class power products.